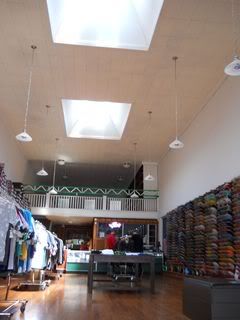 Daniel Johnston is used to the shifting board under his feet, having been a skateboarder for 20 years. The boards most often under foot in recent weeks, however, are the hardwood floors of his new shop, Relief Skate Supply, which he opened in downtown Panama City.
"I grew up skating down here and always thought it would be a great place for a store," said Johnston, who is also a sales representative for Vans Footwear. "I have a lot of knowledge from going to skate shops in the Southeast, and I took a little bit from each shop to collaborate on my own."
The shop is narrow and long, with a vaulted ceiling opened to natural lighting through two skylights. The left side, as one enters, is dominated by shelving with helmets, bags, shoes and clothing; on the right are dozens and dozens of skateboards.

"People are wearing the clothes without actually participating in the sport," he said. "It's a lifestyle. It's the new ballgame, the new sport - even though it's been around since the late '50s and the '60s. My kid is 2 years old and already skates on a skateboard."
The store will occasionally have movie nights, projecting skateboard films on the high white walls. Demonstrations may be set up and team signings will be booked. Although such lifestyle elements and clothing will be plenty, the store's focus is "the fun under your feet," Johnston said.
"We're here to support the actual activity of skateboarding. We want to get people active with skateboarding."